BOPP amarillento Ahesive Tape para uso de la máquina
Descripción del producto
Modelo NO.: BM182 uso: Oficina impermeable: impermeable Color: amarillo marca: especificación del paquete BOMEI: SGS, ISO código del HS: 39101099 Material: BOPP adhesivo: base de pegamento de temperatura - resistencia al agua: Normal temperatura ancho: cualquier anchura pueden ser Choosed paquete transporte: 6rolls/Shrink, 72rolls/Carton.Customized origen disponible: China amarillento bopp ahesive cinta para máquina de uso
Product show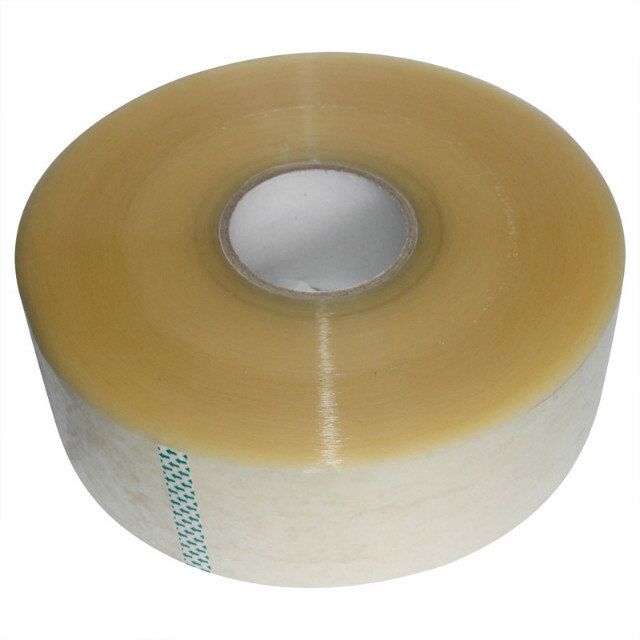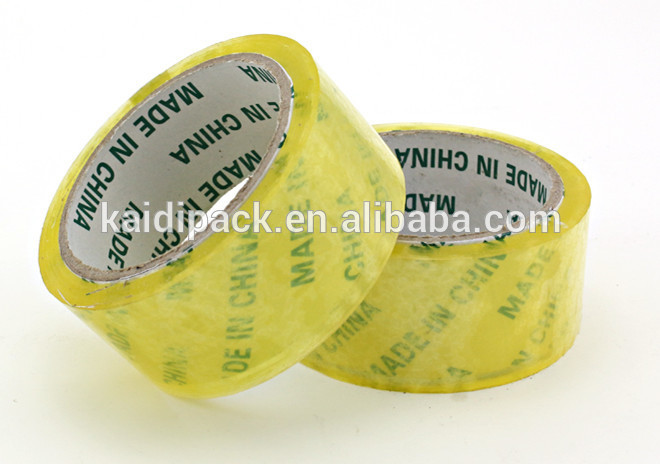 Material de embalaje Tape
• base material : Film polipropileno, BOPP/OPP film.
• capa: cubierto con base de agua glue
acrílico
uso de embalaje cinta
• embalaje automático machine
• flejado, mercancía, pallets
• envío, embalaje, envoltura, decoration
• cumplir con todas las clases de conveniently
de transporte • medio y lacre del cartón pesado, lacre de la caja, bolso sealing
• excelente ejecutante de aplicación tanto a mano como a máquina en la fábrica, casa supermercado etcetera.   
Advantages de embalaje cinta
• OEM con precio competitivo
• tiempo delivery
• económico eficaz y oportuna communication
• equipo de proceso de calidad garantiza la constante calidad.
• BOPP cinta, excelente tack y adhesión a la superficie. Agarre fuerte que está garantizada por un excelente respaldo adhesivo.
más detalles de embalaje cinta
Material

BOPP/OPP film and coated with water based acrylic adhesive, 

Thickness

From 28mic to100mic. Normal: 40mic, 45mic, 48mic or as you required

Width

From 3mm to 1280mm. Normal: 45mm, 48mm, 50mm or as you required

Length

From 10m to 8000m. Normal: 50m, 66m, 100m, 100y, 500m, 1000y

or as you required

Type

Noisy tape, low noisy tape, silent tape, crystal clear, print brand logo ect. 

Color

Clear, transparent, crystal clear, brown, colorful or as required

Printed

Offer, can be printed 6 color mixed for logo

MOQ

5000rolls

Certifications

ISO9001:2008, SGS

Delivery time

Depends on your quantity, usually 10-15 days after deposit received

Payment term:

30% deposit before production, the balance should be paid before loading

Package

6rolls/shrink,36rolls/carton,72rolls/carton. Individual shrink 

or as customer's requirement

Popular size 

in global market

48mmx50m/66m/100m--Asia

2"(48mm)x55y/110y--American

45mm/48mmx40m/50m/150--South Amerian

48mmx50mx66m--Europe 

48mmx75m--Australian

48mmx90y/500y--Iran, Middle East 

48mmx30y/100y/120y/130/300y/1000y--African

Special size,color can be made according to customer's requirement
packaging details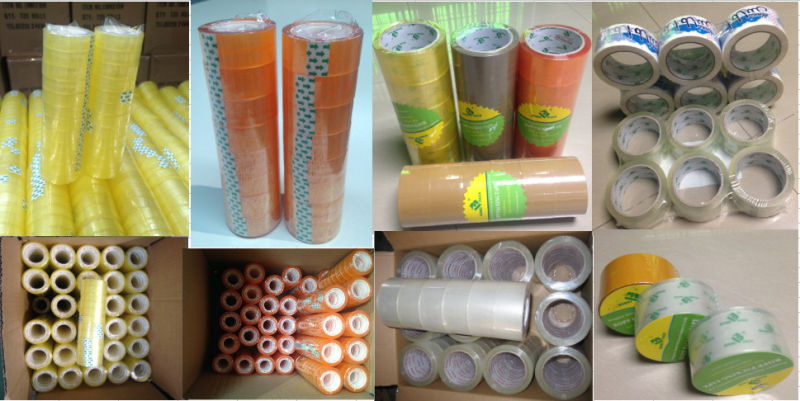 Company information
Our compañía es fabricante profesional de cinta impresa del embalaje y rollos jumbo de bopp, producir materiales de embalaje sobre 21years. Nuestra compañía ha ganado el certificado de calidad ISO9001: 2008, certificado del SGS, etcetera. Además podemos proporcionarle el precio competitivo, alta calidad y buen servicio post-venta.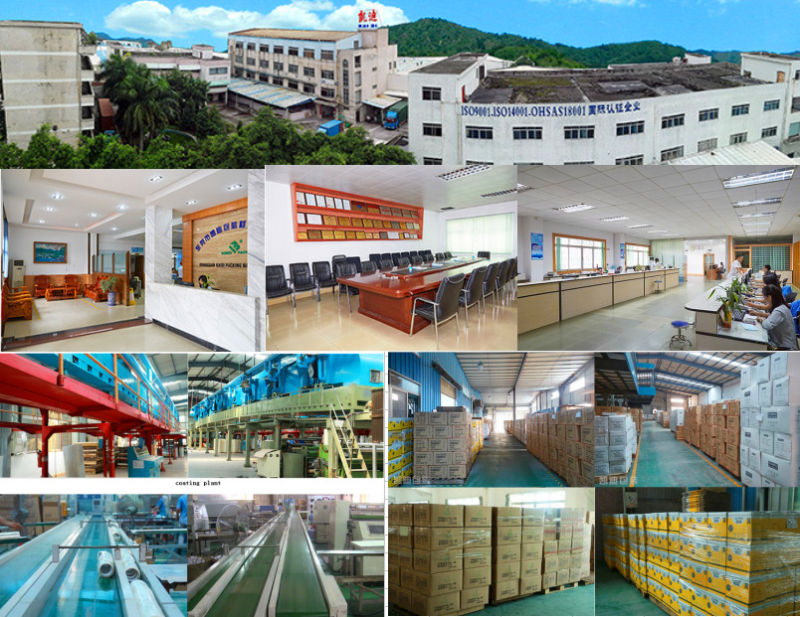 Our nacionales y extranjeros famosos fair

Our SGS e ISO certificados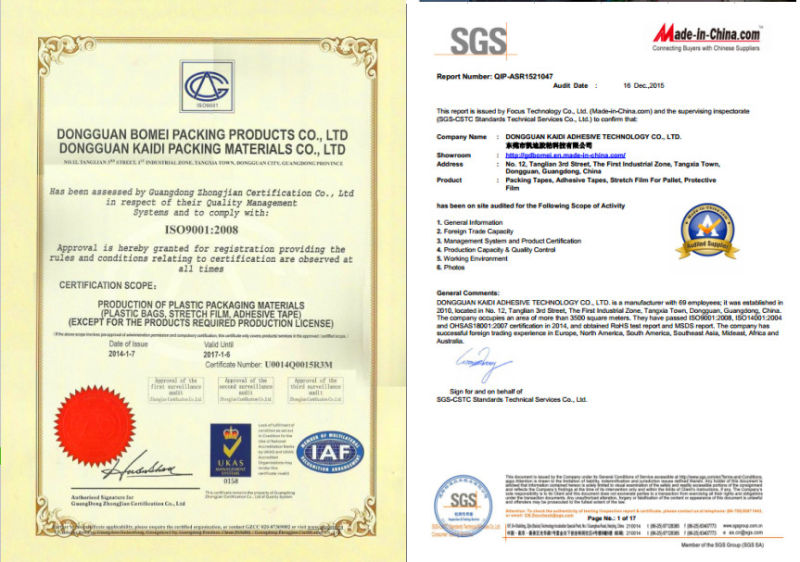 Why nos eligen
1. Precio.
Customers importa el precio y quiere conseguir precio de proveedor, por lo que nuestro precio es muy competitivo porque ofrecemos de primera mano price.
2. Empresa calidad.
Our en 1994 y tiene 19 años produciendo experiencia. También hemos mejorado nuestra tecnología gradully conforme pasa el tiempo. Así que podemos proporcionar buena calidad de you.
3. Escala.
Our empresa tiene 2000000 m2 por lo que contamos con un amplio geographic
4. Producto diversificación.
Our compañía proporcionar la cinta del embalaje de BOPP, cinta adhesiva, doble cara cinta y película de estiramiento. También nos prpovice impresión de embalaje cinta y cualquier color puede ser elegido por customer.
5. Uso (mercado).
Our de bienes puede ser ampliamente utilizado por supermercado, fábrica, empresa Expres, empresa de decoración, escuela y así sucesivamente. También puede ser utilizado en la vida diaria, como en oficina, familia, lacre del cartón y on.
After-Sale tan Service
First paso vamos recoger paso de datos.
Second de envío del cliente haremos un índice de satisfacción del cliente.
Third paso mejoraremos nuestra deficiencia por paso de
Fourth. retroalimentación del cliente para lograr un ganar-ganar situation.
Contact formas
mobile : + 86 18819528425 (whatsapp)
email:.cn
Grupos de Producto : Cinta del embalaje de BOPP